MPF's Monthly Nonprofit Spotlight - April 13, 2016
ABOUT US
Mission
USA Cares provides financial and advocacy assistance to post 9/11 active duty US military service personnel, veterans and their families. We assist all branches of service, all ranks and components and treat all with privacy and dignity in appreciation for their service and sacrifice. We never charge fees nor accept repayment and rely on donations from private citizens, businesses and foundations for all funding.
Please visit our Donate page and Share Their Sacrifice. 
Our Goal:
The goal is to help restore financial stability and self-sufficiency by giving "a hand up not a hand out." Services are free to service men and women and their families without obligation to repay. Financial assistance is not given directly to service members or their families; instead, payments are made to mortgage lenders, utility companies, and other vendors. The objective is to reach families at the earliest stage of intervention to proactively prevent further financial distress.
Family Resource Center:
USA Cares maintains a "call center" dedicated to the millions of Americans who have service members in their family. Trained and experienced Family Resource Coordinators mentor, coach, and are the friendly voice that help those families that may not even know the right question to ask. Our resource coordinators often identify services and benefits, in addition to USA Cares support, that benefit clients, thereby leveraging the total assistance delivered.
It is the goal of USA Cares and its volunteers to help as many of our military families as possible. We will respond to every request, and a written reply will be sent to each requester thanking them for their sacrifice and explaining the decision of the folks here in regards to whether or not the requested assistance could be provided.
Contact us at 1-800-773-0387 or EMAIL US.
Why We Are Different
Fast Response: We respond within 48 hours.
Grants not Loans: USA Cares provides grants to solve problems not loans to prolong them.
Screening of Applicants: USA Cares carefully screens each applicant. Our staff works directly with service providers (utility, mortgage company, etc.) to confirm the need.
Leveraging Other Assistance: USA Cares mobilizes other organizations to join in providing assistance thus maximizing the impact of every donation.
Low Overhead/High Efficiency: Typically more than 80% of all contributions received from donations and grants go to support service members and their families.

Programs
Combat Injured
Increased exposure to combat stress has lead to a dramatic and steadily growing number of service members suffering from invisible wounds: post-traumatic stress disorder (PTSD) and traumatic brain injury (TBI). They require extended treatment to heal. The VA covers treatment, but not lost wages. A significant number of these service members are under-employed or employed with companies that cannot pay them while they receive treatment. Our Combat Injured program pays their basic expenses – mortgage/rent, food for their family and home utilities – enabling them to receive treatment and be assured their family is taken care of.
USA Cares provides access to care by providing grant assistance to active military and veterans who have been referred to a VA approved, inpatient treatment program for PTSD, TBI and/or Military Sexual Trauma.
Housing Assistance
Preventing Foreclosures and Evictions
The program became a reality after a $1.2 million grant was awarded to USA Cares from the Homeownership Preservation Foundation in 2005.
USA Cares Housing Assistance Program Action Stats:
8,125

military families saved from foreclosure or eviction
More than

11,310

children saved from homelessness
USA Cares partners with the following organizations to help stop and prevent evictions and foreclosures:
Homeownership Preservation Foundation
Fannie Mae
Emergency Assistance
This Emergency Assistance program pays immediate, essential bills, including food and utility bills. This program is vital to a military family's quality of life— we have paid a bill while the utility company truck is in the driveway ready to shut off their lights.
USA Cares typically assist these emergencies with between $20K and $30K per week with an average grant size of $650.
USA Cares Emergency Assistance program offers post-9/11 service members, veterans and their families assistance with utility bills and even provides emergency food assistance. It is not unusual for National Guard members or Reservists to suffer a significant loss of income when being called to active duty, and many return home from deployment with the task of finding a new job. For some families, an error in pay or delays in processing cause them not to receive income—a situation that may not be corrected for weeks.
Emergency Assistance ensures that the needs of the family, central to qualify of life are met when there is a hardship directly due to the military service/mission. The program also provides assistance with auto payments, auto insurance and phone bills.
The continued ability to meet the needs of military families during situational, financial hardship is critical to our mission.
Jobs Assistance
Program aims to facilitate sustainable employment for post-9/11 veterans
The USA Cares Jobs Assistance mission is to reduce unemployment among post-9/11 veterans, particularly combat injured, Guard and Reserve. The Jobs Assistance program is unique from other similar programs in a number of ways:
First, USA Cares can provide financial support to qualified veterans in order to overcome financial roadblocks to employment (e.g., fuel to get to the interview and tools needed for employment).
Second, the screening process guarantees participating employers that a veteran referred through Jobs Assistance is a veteran with an honorable discharge who has been engaged by our staff for the best possible guidance with respect to his or her job search.

Third, USA Cares Jobs Assistance is funded by private donations. Veterans who qualify for disability benefits through the VR&E program and those with GI Bill eligibility enjoy the flexibility that their benefits afford. Other post-9/11 veterans may qualify for assistance directly related to obtaining employment.
Application Process
In order to participate:
Fill out our online application or call us at 800.773.0387. Be ready to provide your referral letter to treatment, a DD214 or LES. We will contact you within 2 business days.
What can you expect once we receive your application?
1.    You may be informed that you do not qualify for our assistance. If so, we will assist you in finding appropriate alternate resources.
2.    If qualified, your case will be forwarded to your case team for processing. You will again be contacted to discuss your needs and the cause of your current hardship.
3.    Your case then goes to an impartial committee for approval.
4.    If approved, you will be notified that checks are being sent to service providers.
If we are unable to assist you due to your circumstances, we will refer you to one of the many agencies or organizations that would better meet your needs. If you see that you do not qualify with us at this point, please contact Military One Source for other options. USA Cares protects clients privacy and dignity, however military status may need verification with the unit contact person provided.
To determine eligibility see http://www.usacares.org/?page_id=28 and click where indicated.
Your Donations
Our military families need help and YOU can make a difference in their lives.
USA Cares depends on direct financial support to pay for the many services provided our military families. Your generous donations will make a real and life-changing difference in their lives, specifically:
$5,000 provides for household bills while a Guard or Reserve member
attends PTSD in-patient treatment
$3,000 saves a military family home from foreclosure
$2,000 relocates a Jobs Assistance family with a new career
$1,000 stops rental eviction
$500 restores utilities in a military family home
$300 provides a week's worth of food to a family of four
USA Cares has responded to over 75,000 requests for assistance with over $11.5 million in indirect-support grants.
USA Cares is a Kentucky based 501(c)3 non-profit, charitable organization founded in 2003 and registered with the IRS.
If this is a corporate donation please enter the corporation's name in the comment section.
Contact Us
USA Cares, Inc.
562 N Dixie Blvd., Suite 3
Radcliff, KY 40160
(800) 773-0387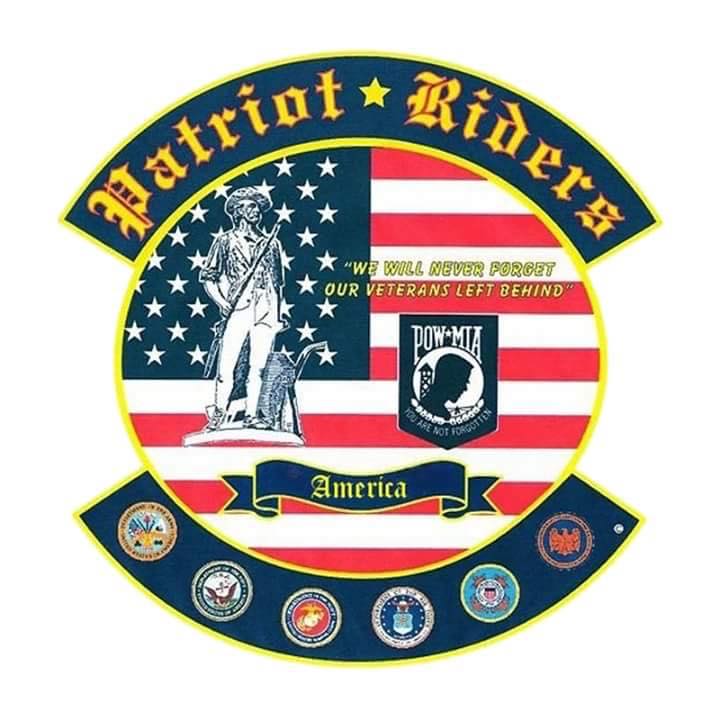 Patriot Riders of America, Rhode Island at http://www.patriotridersri1.com/home.html
Supporting those who gave some, remembering those who gave all – Honor, Educate, and Support
Our Mission:

Locally and nationally Patriot Riders of America is an advocate for the American Veteran. We are a not for profit organization across several states who strive to give back to our communities. Although at the core, we are motorcycle enthusiasts, owning a motorcycle is not required.
Patriot Riders' major functions are to help all American Veterans, to assist people in our communities, to encourage rider participation in events, and to promote motorcycle safety. We support the constitution of the United states, the right to freedom for all, and our fellow members.

Our Organization:
Rhode Island Chapter President - Chris Carpentier
Rhode Island Chapter Vice President - Paul Millette
Rhode Island Chapter Sergeant at Arms - Nick Brodeur
Rhode Island Chapter Secretary - Kelley Votolato
Rhode Island Chapter Treasurer - Erik Herb
 
Join Us
Would you like to give back to the Veteran community? Are you a motivated individual that can support fundraising events to help those in need? Do you want to join an organization built on brotherhood? If you answered yes to any of these questions you're one of us!  Some of what we do:
Community service
Fundraising
Flag Lines
Motorcycle Flag Escorts
Parades
Veterans outreach
Help out a Vet
Work with members in your community and make a difference.
Patriot Riders of America, Rhode Island devotes its energy to passionately advocate for the men and women who served our country with honor and dignity, past and present. Find out how you can contribute to the future of a veteran in need through donations of time and effort.
Upcoming Events
Our Organization supports multiple events throughout the year to raise awareness for all things related to helping out our Veterans in need. Click on the 'Read More' link on the home page to find out how you can show you support.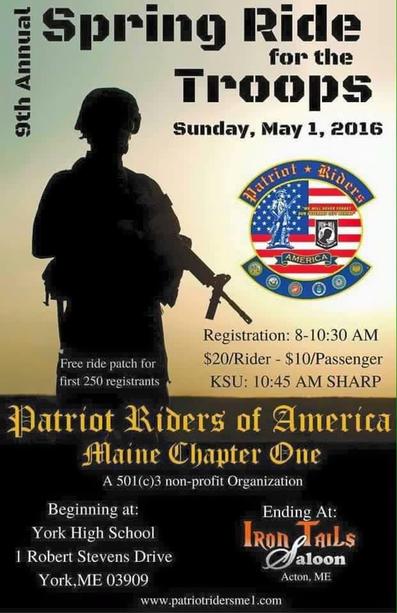 Donations
Patriot Riders of America, RI recently received 501(c)3 status, so check their website frequently for the opportunity to donate as the website is still under construction (see information in italics below).
Find Us/Contact us at http://www.patriotridersri1.com/make-a-difference.html
98 School St. North Smithfield RI 02896 
Phone:        +1.4016367316
FAX:            +1.4016367316
E-mail: CCarpentierPRR1@gmail.com
Patriot Riders is not connected with or affiliated with any other organization. Patriot Riders members donate their time because they support the goals expressed in the Mission Statement.
Please excuse our appearance while we continue to build our website. Updates will be coming in fast and frequent so please keep checking back in with us!
Future additions:
- Mobile friendly website
- Support merchandise
- Updates to upcoming events
- And much, much, more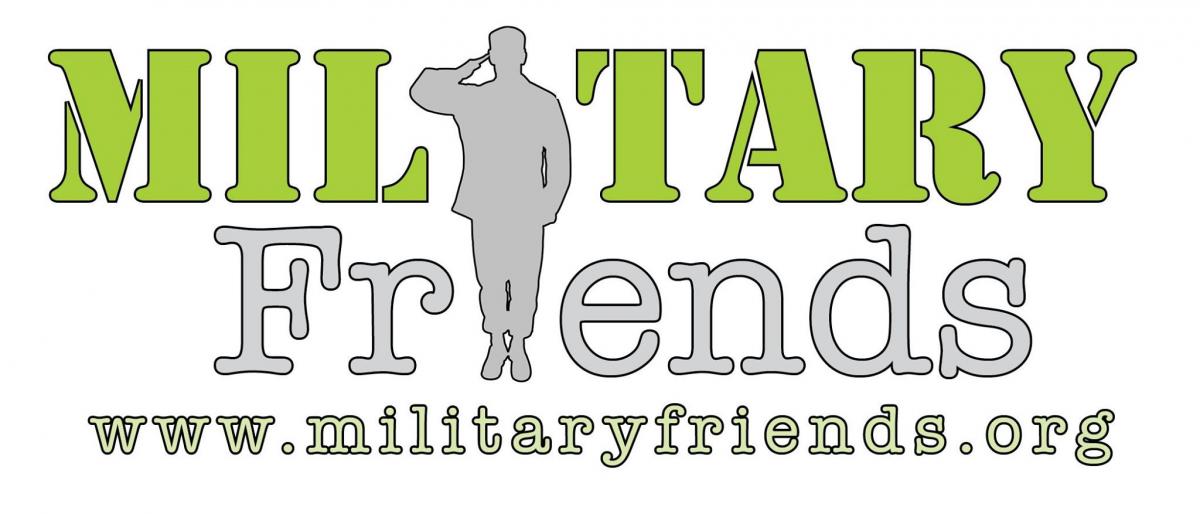 Military Friends Foundation
http://www.militaryfriends.org/
About
Our Mission
The Military Friends Foundation recognizes the unique contributions and sacrifices made by Massachusetts National Guard, Reserve and Families of the Fallen. We are proud to offer grant programs, community events, referral services and more to eligible families who have faced hardships related to military service. We invite you to Join Us and Honor Them.
Our History
The Military Friends Foundation was established in 2003 with the financial support of generous private donors who wished to recognize the unique service of citizen soldiers and airmen.  Unlike any other time in history, these men and women are being called upon to serve this Nation overseas.  Created as an independent non-profit organization, today the Military Friends Foundation is the only organization recognized by the state to assist Guard, Reserve and Families of the Fallen facing financial hardships related to a deployment or extended activation. To date, the Military Friends Foundation has provided over $1 million in grants and services to Massachusetts military families in need.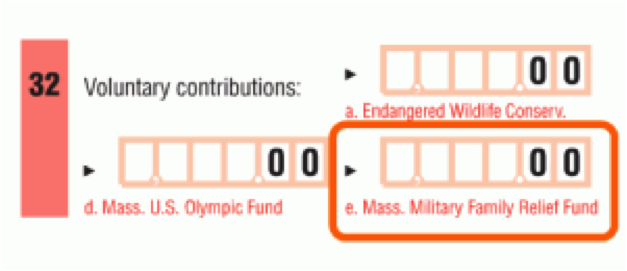 DONATE TODAYON YOUR STATE TAX RETURN FORM
In November 2005, the "Welcome Home Bill" was passed by the Massachusetts State Legislature.  This legislation established Massachusetts Military Family Relief Fund.  The Fund is designed to offer financial assistance for families of Massachusetts National Guard members and Reservists who were called to active duty (under Title 10 or Title 32 for force protection missions) after September 11, 2001.   A voluntary tax-check of box on the state income tax form was also created to allow taxpayers to donate directly to the Fund in support of military families. These donations are critical to our success in serving families.
The Military Friends Foundation is proud to administer the Massachusetts Military Family Relief Fund among its other programs.  The Military Friends Foundation continues to work closely with the Massachusetts National Guard, Massachusetts Operation Total Warrior Yellow Ribbon Program, Veterans Service Officers, federal and state elected officials, non-profit and community organizations, and military stakeholders across the Commonwealth to address the ongoing needs of our military families.
Our Future
Thanks to support from individuals, communities and corporations, we have provided hundreds of thousands of dollars to National Guard and Reserve families across the Commonwealth. We have also begun to assist families from neighboring states, such as New Hampshire, Connecticut, and Rhode Island, who belong to military units based here in Massachusetts.
Military Friends Foundation Hero's Salute continues to support Families of Fallen Service Members across the Commonwealth. Our Hero's Salute program is designed to offer financial support to families in the days immediately following the death of a loved one and ongoing support for years to come. This is the first Military Friends Foundation program open to families of all active and reserve components.
Community Events
Military Friends Foundation hosts several community events each year to bring together Families of Fallen Servicemembers.  These events include:
Programs
 Military Friends "Adopt A Unit"
 Every year the Military Friends Foundation will adopt a National Guard or Reserve Unit based in Massachusetts.
 A Hero's Salute for Massachusetts Gold Star Families
Military Friends Hero's Salute Program is designed to offer direct financial of $1,000+ to Massachusetts Gold Star & Surviving Families in the days immediately following the combat-related death of a loved one from Massachusetts.  This program also offers community support and ongoing assistance to families of the Fallen.
 Emergency Grant for Massachusetts National Guard Members and Reservists
 Military Friends Foundation offers emergency aid grants to support Massachusetts National Guard members and Reservists facing hardships.
 $1,000 Scholarships for graduating seniors or college students who have had a parent/guardian deployed overseas in the National Guard or Reserve since September 11, 2001 or who are a Gold Star Family Member.
 A pilot program designed to recognize families of deployed National Guard and Reservists. $200 grants will be provided to qualified E-7s and below who, like so many, face financial challenges during a deployment.
 The Ahern Family Charitable Foundation have created a partnership with the Military Friends Foundation to establish "Operation Santa-Massachusetts", a program that supports children of Fallen Heroes and children of deployed National Guard Members and Reservists.
Learn more about each program and fill out or download applications by clicking on each program here: http://www.militaryfriends.org/programs/
See homepage tabs for Supporters, Join Us, News, and Events
DONATE ONLINE & INDIVIDUAL GIVING at http://www.militaryfriends.org/
Individual donors are essential to continuing our mission. Your gifts help us touch hundreds of lives each year. Individuals can support the Military Friends Foundation in a variety of ways: annual gifts, tribute gifts, special campaigns, planned gifts, and in-kind gifts. Donations can be made securely online using PayPal/Visa/MC/American Express or checks may be directly sent to: 
Military Friends Foundation
14 Beacon Street, Suite 706
Boston, MA 02108
CORPORATE SPONSORSHIP Corporate partnerships benefiting the Military Friends Foundation offer unique opportunities for businesses and organizations to help positively impact lives across the Commonwealth. Corporations can support the Military Friends Foundation through various sponsorships and volunteer projects. Partnering with the Military Friends also aligns your business with the only non-profit specifically charged by the state Legislature with supporting our National Guard and Reservists. A partnership also allows a chance for you to connect with our large, diverse audience of supporters and volunteers. Please contact us at 1-84-HELP-VETS for more information on how to get your business involved.