MPF's Monthly Nonprofit Spotlight - May 13, 2016

Tragedy Assistance Program for Survivors (TAPS) at http://www.taps.org/
Caring for the Families of our Fallen Heroes - Someone is available 24/7 at 800-959-TAPS (8277).
About TAPS
The Tragedy Assistance Program for Survivors (TAPS) offers compassionate care to all those grieving the death of a loved one serving in our Armed Forces. Since 1994, TAPS has provided comfort and hope 24 hours a day, seven days a week through a national peer support network and connection to grief resources, all at no cost to surviving families and loved ones. TAPS has assisted over 50,000 surviving Family members, Casualty Officers and caregivers.
Our National Military Survivor Seminar and Good Grief camp has been held annually since 1994. TAPS also conducts regional Survivor Seminars and Good Grief Camps at locations across the country.
If you are suffering the loss of a military loved one, or if you know someone who can use our support, please call our toll-free help and information line now: 1-800-959-TAPS (8277).
 The Tragedy Assistance Program for Survivors (TAPS) is a not-for-profit organization and is not part of, or endorsed by, the Department of Defense.
Home Page - The home page has multiple section tabs, so there is something for everyone:
For Survivors tab – http://www.taps.org/survivors/ You love someone who served our country. Then tragedy hit. And now your loved one is gone. You are a survivor, a person trying to figure out what is next. We are here for you. You are not alone.   
Survivor Programs - Survivor Seminars, Good Grief Camps and Camp Outs, Retreats, Expeditions, Inner Warrior, Peer Mentors, Suicide Survivor, Team TAPS, and teams4TAPs
Survivor Connections - Survivor Outreach and Helpline, Online Community, Care Groups in your area, Peer Mentoring, Text Reminder Service
Survivor Resources - Grief Counseling, Education Assistance, Case Work, TAPS Magazine, TAPS Resource Library, Links to Helpful Organizations, Gifts for Families of the Fallen, Grief Publications
Survivor Relationships - Widow, Widowers, Significant others, and Surviving Parent, Surviving Sibling, and Surviving Adult Child, Suicide Survivor, Extended Family, and Caregiver for a Grieving
For Professionals tab - http://www.taps.org/professionals/ Compassionate care and comfort in the immediate aftermath of a death and beyond, provides the survivor with a foundation as they begin their journey through grief. TAPS stands along with you in reaching out to all who are suffering, providing hope and healing.
HELP FOR PROFESSIONAL CAREGIVERS - You bring care, compassion and support to others. You make yourself available, sometimes at a moment's notice, to lend your time, expertise and support to families and loved ones who are grieving the death of someone who served in the military. Whether it's your assigned duty, a chosen profession, or a shared experience - you touch the lives of those who are hurting. You are a caregiver - whether you carry the title grief counselor, military chaplain or casualty assistance officer.
TAPS appreciates your efforts to care for those left behind when a military death occurs. We provide information about military grief and traumatic bereavement, as well as support and compassionate assistance to those actively involved in survivor care. Through education and training opportunities, advice and resources, TAPS wishes to include in our family, those that stand with us on the front lines to reach out to military survivors everywhere.
See info on the information below at

:

info@taps.org
Working with the media
At TAPS, we work with the news media nationally and locally in many ways to tell the survivor story. On a daily basis, journalists call us to speak about issues affecting the parents, spouses, children, siblings, and other loved ones left behind following the death of a service member.
We welcome into TAPS anyone who is grieving the death of someone who died in the military - so our families have experienced loss in a variety of ways - from combat, suicide, terrorism, homicide, negligence, accidents, and illness. Our survivors include mothers and fathers, husbands and wives, sons and daughters, brothers and sisters, fiancés and other relatives of those who have died.
Nearly all of our families are trauma survivors. They all thought their loved one would return home from a military assignment. Instead, their worst nightmare came true. Consequently, journalists must be aware of techniques for interviewing trauma survivors and realize that these stories require sensitivity.
POTENTIAL STORY TOPICS
·       the impact of traumatic loss on the family left behind, what families experience in the first few days after a death.
·       estimates from TAPS on the number of spouses, children, parents, siblings, and others left behind following a death.
·       the immediate and long-term effects that grief and bereavement have on individuals and families.
·       the surviving family experience for the long-term -the experience of spouses, parents, children, siblings, and others left behind following a military death - and how they pick up the pieces and rebuild their lives.
·       parenting children following the death of a parent who served in the military.
·       post-traumatic stress among the bereaved.
·       suicide in the military - as seen through the experience of the families left behind following a death by suicide.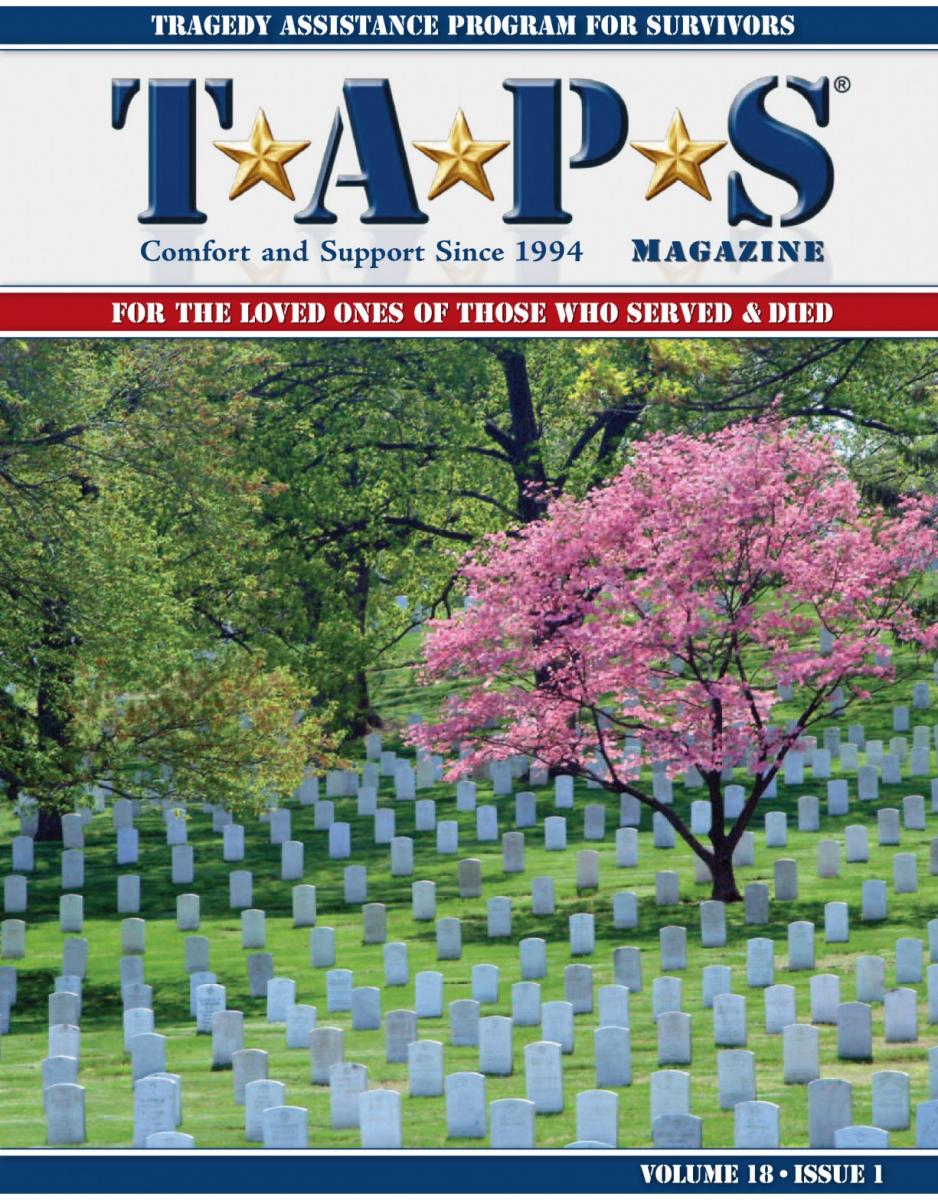 FOR JOURNALISTS: PREPARING YOURSELF TO SPEAK WITH SURVIVORS
We recommend any member of the media who is speaking with the family of someone who has died while serving in the military, review guidelines from the Dart Center for Journalism & Trauma for speaking with trauma survivors.
Best Practices in Trauma Reporting 
Covering Children & Trauma
Interviewing Victims 
Tragedies & Journalists
Resources for Reporters - Reporting on Suicide
Recommendations for Reporting on Suicide (American Foundation for Suicide Prevention)
Dart Center for Journalism & Trauma - Reporting on Suicide
Poynter - Reporting on Suicide  
FOR FAMILIES: RESOURCES TO HELP FAMILIES TALK WITH THE MEDIA
Guide for Military Families on Dealing with the Media After a Tragedy
Resources from Workshop on Sharing Your Story When It Involves the Suicide of a Loved One
Sharing Your Story - Presentation Slides
Sharing Your Story Outline - MS-Word   pdf file
ABOUT OUR FAMILIES AND MEDIA COVERAGE
Our families did not ask to become public figures when they suffered the death of someone they love. Yet a death in service to country carries public meaning, and often involves public mourning. Many families, in the immediate hours and days after the deaths of their loved ones when they are vulnerable and planning a funeral, are also asked to speak in sound bites and provide photos to the media. Some families use this opportunity to share the story of their loved one's life and service, and use the media to distribute information to the community about how to contribute to a memorial fund or honor their loved one.
Some of our families carry scars from their initial interactions with the media during the days immediately following their loved one's death. Others navigated the media interest that may have surrounded their loved one's death with shakiness and entrusted others to help (or not) with this, and didn't return calls from the media because they were overwhelmed with other needs. Still others were silent toward the media, out of fear of what others might think of how their loved one died, and buried their loved one without even an obituary. 
Many surviving families are open to sharing the story of their loved ones. But often, time is needed to allow them to gather their thoughts, and reflect on their experience. Unfortunately, we sometimes receive requests from journalists asking to speak with the family of "the most recent loss possible." We do not honor these requests and do not call families in the immediate days after someone has died.
In the immediate days and months after their loss, research has shown that family members of those who have died by suicide, are often least able to offer helpful causal information about what led to their loved one's death. Identifying  what contributes to a death by suicide is often complicated and takes time. Research shows presenting suicide in the media as an inexplicable act, can actually encourage an increase in suicides. Consequently, an emphasis on immediacy, can be detrimental to good reporting on suicide and actually cause harm.
Families who are typically best able and best equipped psychologically to not be re-traumatized by a media interview, are those who are at least a year beyond their own loss. We will assist reporters who are reaching out to a family in a respectful way to do a thoughtful story.
DOCUMENTARY FILM, BOOK & PHOTOGRAPHY PROJECTS
TAPS regularly receives inquiries from documentary film makers, book authors and photographers seeking to do projects about the families of the fallen. To help with screening these partnership requests and evaluating them efficiently, we ask those proposing new projects to fill out and submit a questionnaire. Send your completed questionnaire to media@taps.org. 
Support TAPS - Support TAPS as we provide healing and hope to the families and loved ones who have lost a hero in our Armed Forces. You can become a member of Team TAPS, host a golf tournament, put on a bake sale, or make a donation. There are many meaningful ways you can support TAPS and make a significant impact on the children, parents, siblings, spouses, and loved ones as they move forward in their healing journey.  http://www.taps.org/support/
Donate - Find all the different ways that you and your family can make a difference for the families of our fallen heroes.
Volunteer - Without volunteers, we just couldn't provide the excellence in care we give our survivors. 
Team TAPS - Run in memory of a fallen hero while raising funds and awareness for TAPS in a city near you.
Gala - The annual TAPS Honor Guard Gala raises critically important operating funds for TAPS.
Team4taps - A sports initiative to support families of the fallen. Everyone can help and be on the frontlines of support. Be a hero.
Support a program - Support TAPS youth participating in an Israeli/US Youth exchange. Children in Israel and the US who have lost their parents to war come together to heal.
Planned giving - Through planned and estate gifts, you can help TAPS build a solid foundation for its next 20 years, and
Donor brochure and Our Partners at http://www.taps.org/support/
Other resources and programs at TAPS on the homepage -
New to TAPS?,
Education assistance,
Survivor Events,
Fundraising Events,
Volunteer Central,
TAPS online Store,
Our Partners,
Latest Information,
In the News,
Calendar, and
Survivors Stories
Our Leadership
The Tragedy Assistance Program for Survivors (TAPS) provides a wonderful support network for the surviving families of those who have died in service to America. To accomplish our mission, TAPS has a small professional staff and a large national volunteer network, managed by our Board of Directors and supported by our Honorary Board. We are grateful to those who give of their time and talent.
Honorary Board – TAPS is fortunate to have the involvement and endorsement of some of America's most prominent patriots. They understand the mission of TAPS, and honor the families of our fallen warriors by supporting our programs.
Board of Directors – Our Board monitors the policies and management of TAPS, a 501(c)(3) nonprofit corporation. The Board meets quarterly at TAPS National Headquarters in Washington, DC.
Corporate Officers – Program and Business activities are managed by TAPS Executive Committee, comprised of TAPS Chairman and CFO, respectively.
Program Staff - TAPS has a small cadre of professional staff to manage Survivor programs, services, case management, and fundraising.
Peer Mentors - The heart of TAPS is the Peer Mentor Network comprised of hundreds of surviving family members who have become Peer Mentors. These survivors volunteer their time to reach out to the newly bereaved, offering their most precious gift – their understanding and support.
Mentors - Our goal at our National and Regional Good Grief Camps is to have one Mentor for each child.  Most of these mentors are members of the Armed Forces.  They spend the day with the children, engaging them in activities that help them share feelings, express emotions, and cope with their overwhelming grief.
See Honorary Board, Board of Directors, and Staff & Volunteers at http://www.taps.org/staff/
| | |
| --- | --- |
| Support TAPS | Support TAPS as we provide healing and hope to the families and loved ones who have lost a hero in our Armed Forces. You can become a member of Team TAPS, host a golf tournament, put on a bake sale, or make a donation. There are many meaningful ways you can support TAPS and make a significant impact on the children, parents, siblings, spouses, and loved ones as they move forward in their healing journey. |
Donate to TAPS - https://www.taps.org/donate/
Your Support Brings Comfort, Care and Compassion
The Tragedy Assistance Program for Survivors (TAPS) offers compassionate care to all those grieving the death of a loved one serving in our Armed Forces. Since 1994, TAPS has provided comfort and hope through a national peer support network and connection to grief resources, 24 hours a day, seven days a week at no cost to surviving families and loved ones.
Tragedy Assistance Program for Survivors, Inc.,
3033 Wilson Blvd. Suite 630, Arlington, VA 22201
202-588-8277 (Headquarters) 571-385-2524 (Fax)
TAPS is a 501(c)(3) nonprofit corporation. Tax ID# 92-0152268

http://www.honorandremember.org/
Mission
To Establish a Tangible National Symbol of Gratitude, The Honor and Remember Flag, as a Visible Public Reminder to all Americans; Perpetually Recognizing the Sacrifice of Our Military Fallen Heroes and Their Families.
Rationale: In our over 200 year history there has never been an official national symbol that specifically recognizes in gratitude and respect the ultimate sacrifice made by members of the United States military in service to our nation. The Honor and Remember Flag was created for that purpose.
Goals:
To promote the vision of the Honor and Remember Flag and request that visitors to the website sign a petition and pass the word about the importance of this new symbol.
To build a consensus among the branches of the United States military, veterans organizations, service and civic groups, businesses and individuals in order to collectively solicit the Department of Defense and the United States Congress to propose and accept the Honor and Remember Flag as the official flag for honoring all fallen servicemen and servicewomen.
To promote broad national awareness of and groundswell interest in the flag, so that military, government and educational facilities as well as households throughout the country would begin flying the Honor and Remember Flag in recognition of our nation's fallen warriors.
To place one personalized Honor and Remember Flag in the hands of immediate families who have lost a loved one in military service to America.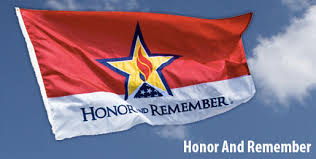 On December 29, 2005, George Anthony Lutz II (Tony) was killed by a sniper's bullet while he was on patrol in Fallujah, Iraq. His family and friends endured the shock, emotional agony and overwhelming loss that accompanied the news of Tony's death, just like the many families who have suffered the same tragedy.
In the months that followed Tony's funeral, his father, George, visited other families who had lost loved ones in the Iraq war. He began to sense that he had joined the ranks of a unique fellowship. These families were only the latest additions to a group that originated with the American Revolution, when the first soldiers to shed their blood for our freedom gave their lives.
George found another commonality among the families of fallen soldiers. After their grief had transitioned to numbness and finally to acceptance, many families wanted to know two things: their sacrifice was not in vain and the nation would never forget. These concerns led George on a quest to discover if there was a universally recognized symbol that specifically acknowledges the American service men and women who never made it home. To his surprise, he found nothing. Thus the Honor and Remember Flag was conceived.
In the more than 200 years of our nation's history there has never been an officially designated symbol that reminds us specifically of the sacrifice made by members of our military and their lives lost in service to our country.
We propose the Honor and Remember Flag as the national emblem for that purpose.
Please go here http://www.honorandremember.org/sign-the-petition/ to sign the following petition to request that the Department of Defense, The United States Congress,  Office of the President of the United States of America make Establish the Honor and Remember flag  as the National Remembrance Flag. Our petition goal is 1.6 million signatures.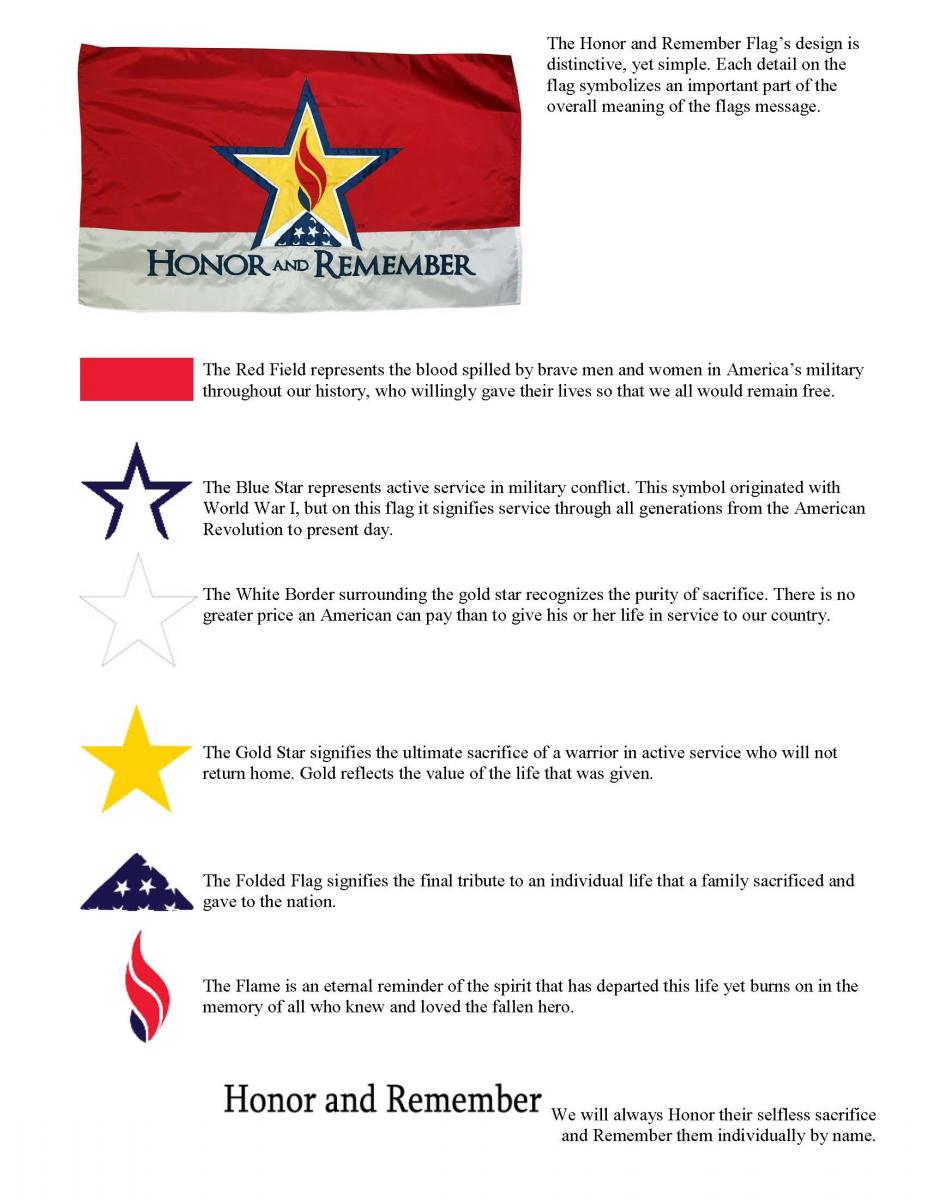 We want to be sure that each loved one is respectfully recognized and honored individually by name and that each family's sacrifice not be forgotten. Because of the importance of this campaign in educating the country in the daily remembrance of each precious life, these presentations are suggested to be made formally in a public ceremony. They are not simply shipped or mailed.
We can arrange for a short ceremony in your area, however, it would be best if you could recommend dates and places meaningful for the presentation. In order to help you arrange this please suggest any groups, organizations, churches etc that you are associated with or any possible venue recommendations you may be attending.
National Organization with State Chapters
The vision of National Remembrance is rapidly growing across the United States. As more people become aware of the message, the number of Honor and Remember supporters continues to increase, with that growth so does the number of opportunities to promote our mission and goals.  Additionally, greater numbers of Gold Star families are requesting personalized flags. Unfortunately without help we cannot reach out to them fast enough. It is only with the support of many that we are able to make positive inroads in thousands of communities in all fifty states.
For those reasons, Honor and Remember has an ongoing process of developing a network of state chapters that will serve as the front line of future efforts to establish, educate, present and comfort. It is critically important to build recognition, involve every citizen and gain support for our mission. From its beginning, Honor and Remember has been a grassroots effort. We truly believe that the only way we can accomplish our mission is with a "boots on the ground" presence in every state that will enable us to: identify and communicate with generations of Gold Star families; present personalized flags; promote the flag and the cause to municipal and state officials; encourage corporate partnerships; and organize local fundraising and promotional events.
If you have an interest in helping us organize a state chapter where you live, please contact us below. Our National Chapter Director will respond with information and guidelines for creating an Honor and Remember chapter in your area!
State Chapters
Honor and Remember, Inc
PO Box 16834
Chesapeake, VA 23328
Fax: (757) 204-4726
OR
Please see http://www.honorandremember.org/category/state-chapters/ to see if your state is a chapter or to sign up your state to become a chapter.
1. Why do we need this remembrance flag?
Men and women have been serving in the United States military and dying for our country for more than 200 years. They represent a unique and distinct category of individuals, along with the families that sent them, that deserve a symbol of recognition, a visual emblem of honor. Until the Honor and Remember Flag was conceived, there was no such nationally recognized symbol. As a nation we have flags that symbolize everything; each state has their own flag, every branch of the service has their own flag, the POW/MIA have their own flag, every veteran's organization has their own flag, every college, high school, organization and so on. Yet the one single group that sacrificed to allow us to fly every flag freely have no public recognition. It is important that their lives and their families be specifically remembered and thanked.
None of us would willingly give our loved ones to be sacrificed for freedom's cause, it is simple human nature. However someone's loved ones are being sacrificed so that ours don't have to. The least we can do is be thankful.  How do we show gratitude without something tangible, not knowing who these families are or where they live. The Honor and Remember Flag becomes that perfect visible expression.
The Honor and Remember Flag is not a replacement to our Stars and Stripes,  or to the POW/MIA flag, nor is it intended to diminish their meaning or stature. It was thoughtfully established to fill a void and complete the circle of tribute. With all three, we comprehensively and publicly give tribute to those veterans who served, those who are captured and need to be brought home, those who are still missing and need to be found and those we know who gave the ultimate sacrifice. Let none be forgotten.
2. Why now?
There are many reasons why it is important to establish the Honor and Remember Flag as a national symbol in this generation. The most important one is that there exists today the largest contingent of living veterans of any time in our history. These veterans comprise in large part one of the greatest groups of least honored soldiers in our history: the Vietnam War veterans. All total however it is still a relatively small number in regard to the general citizenry.
It is important that this small percentage of those who served this country and understand the impact of sacrifice, educate those civilians who will never otherwise understand. Once our military shrinks and our veterans pass, the education will cease.  Honor and Remember is a unique, out of the box opportunity to bring a patriotic message to a civilian population.
For those who lost their lives and their families, the Honor and Remember Flag serves as a way for the rest of us to express, perhaps belatedly, our gratitude for their sacrifice. It is important that all veterans rally in support of the Gold Star families to leave this lasting symbol of public thanks. We all should be doing something; ask yourself if not this then what? There are not many opportunities in a lifetime to leave behind a national legacy, we need your help.
3. Doesn't the American flag honor the fallen?
The flag of the United States of America is our nation's symbol and identifies us as Americans. It is the umbrella which represents every underlying aspect of our country. It actually takes on a different context or meaning wherever it is displayed; Public buildings, private homes, sports stadiums, Olympic events, caskets or even the moon. Like any other nation"s flag it does not stand for anything specific. Ask any citizen what our flag means to them and you will get a dozen different responses. Does it represent sacrifice? Absolutely! However, the American flag also stands for our constitution, the unity of our people, the diversity of our nation, the triumph of our accomplishments and the right to protest or to be burned. It is the symbol of freedom many die to defend, rather than a tangible emblem to specifically honor those who gave their lives. See the answer to question #1.
Our sons and daughters, throughout history, died to preserve its meaning but it does not particularly represent them, they represent the flag, which represents our entire country. Here is how the symbolism of the American flag was originally designed and explained:
The U. S. flag consists of thirteen horizontal stripes, seven red alternating with 6 white. The stripes represent the original 13 colonies; the stars represent the 50 states of the Union. The colors of the flag are symbolic as well: Red symbolizes hardiness and valor; White symbolizes purity and innocence; Blue represents vigilance, perseverance and justice.
4. Who is being honored by the HR flag?
All those who have been killed in the "line of duty". This statement can be defined as any military individual killed while serving or as a result of serving, from the moment our nation began. If you have put on a military uniform in service to the United States, you have given authority to superiors to place you in harm's way. If in the course of doing one's duty an individual lost their life, regardless of where or how, this flag is meant to honor that individual. This flag has a broader scope, honoring all those who by draft or volunteer have put themselves in a position to defend the constitution, the US flag and those freedoms which make our nation great. In other words, if someone was killed while guarding a border, standing on a ship's deck, protecting an embassy or marching headlong into enemy fire, this flag honors them. This would include all military members who died from any lingering physical or emotional trauma  such as agent orange or PTSD.
5. What does the HR flag design signify?
The Honor and Remember Flag was designed from both historic military and universal icons. The Red field symbolizes the sacrifice of blood shed; what better color than American Flag red. The White field below, the purity of that sacrifice. Each man and women serves with a pure heart and a willingness to lay down their lives at any moment. The Blue star in the center dates back to World War I when military families hung a solid blue star banner on their windows or doors representing a loved one on active duty. The Gold Star overlaying the Blue, again going back to WWI, signified that the loved one had been killed. The Folded Flag beneath the stars represents the flag that is handed to each family at the memorial service of their loved one. The Flames above are an eternal reminder that we will never forget. The Three Words below complete the tribute, we will always Honor their sacrifice and Remember them specifically by name.
6. What is the importance of the Honor and Remember Flag?
This flag should be important to every citizen of the United States. Never before in the history our country have we realized how vulnerable we can be to the actions of those who would destroy us. Now more than ever, our fighting men and women deserve our recognition and our gratitude for standing in the way of those who would take away our liberty. We owe them, and particularly those who die and their families, honor and remembrance.
By flying the Honor and Remember Flag, we say to these selfless men and women and the families that love them, that we as Americans will never forget their contribution to our freedom. And we are mindful that at any time, any day another could be added to those ranks. Potentially any day, regardless of circumstance, a blue star family can turn gold.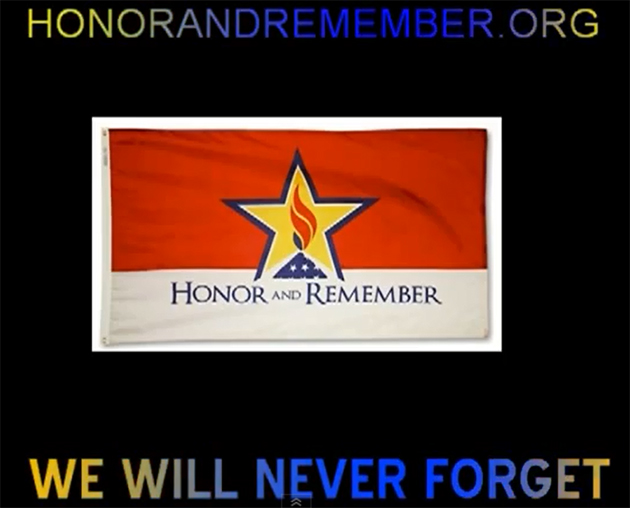 7. Why does the Honor and Remember Flag have a registered trademark?
Great question, the reason for anything to be copy written or trademarked is protection. When the Honor and Remember Flag was initially designed and accepted there needed to be a mechanism in place that would protect it from being altered or produced outside of the US. Additionally our organization exists to fulfill a very important four fold mission, Establish, Educate, Present and Comfort. For this to be accomplished we must remain viable. In researching the creation and establishment of the POW flag we found that one of the missing elements of their effort was not protecting their design. The initial thought was to make sure that the POW flag flew everywhere, however by allowing the flag to fall into public domain they gave up all rights. Subsequently, not only did the design fluctuate but also all flag manufacturers were allowed to openly profit from the emblem. Today those flags are made all over the world, including China and Vietnam. The Nat'l League of families now are financially hindered in their ability to continue their humanitarian efforts effectively and have resorted to reaching out to the many manufacturers in the hopes of receiving donations. From the onset we did not want this to happen to Honor and Remember, therefore we initially licensed Annin and Co, the largest US maker of flags, as well as several others, to manufacture and distribute Honor and Remember Flags across the country, and yes our organization, in order to remain viable, receives a small portion of the proceeds.  The trademark is not held in anyone's name and everyone involved in its design have legally released all rights.  As a board-run non-profit organization we feel it is our obligation to protect this most honorable symbol and to inhibit it from being altered or produced outside the United States. We hope you agree.
8. How do I help get the flag flying?

There are four very important things you can do:
1. SIGN the Petition, If you haven't already. Our goal is 1.6 million signatures, one supporter for each life lost in our nations' history. Once that is achieved our hope is that the Department of Defense will support and Congress will enact a law officially recognizing the Honor and Remember Flag as a national symbol.
2. TALK about the flag. Tell everyone in your circle, including businesses about the website www.HonorandRemember.org and encourage them visit and sign the petition. Also please consider spreading the word through newsletters, emails, blogs or by linking to our website. Additionally send the press release link to any media locally or nationally to let them know about the campaign. We would welcome the opportunity for national attention including syndicated talk shows. Another very important action is to send a letter to your Senator or member of Congress telling them about the flag and the importance of national adoption. Currently there is federal legislation in process, HR546.
3. FLY the Honor and Remember Flag. Make it a part of your office or family's traditions when you fly the American flag.
4. CONTRIBUTE. There are many expenses involved in conducting this national campaign. Any support you can give will help us to fulfill our mission. If every person who signs the petition gives just $5 it will enable us to meet a very important goal of providing flags to families who have lost their loved ones in military service.
9. Where do the donations go?
Honor and Remember, Inc. is a 501 (c)(3) non-profit organization. All sales and donations are applied to fulfilling the goals of the organization; encouraging congressional and state adoptions, national awareness and in particular, presenting families of the fallen with personalized flags. Our fourfold mission is to Establish, Educate, Present and Comfort. Expenses include both ongoing administrative responsibilities and the continuous communication of our national vision through every means possible; email, direct mail, personal meetings, awareness events, public speaking as well as hundreds of presentations in venues across the country.  This also includes the establishment and maintenance of state chapters as well as organizing yearly events for families which include trips, banquets, concerts and our recent commitment to state Run for the Fallen tributes.
It is  our benevolent and long term goal to facilitate the placement of a personalized flag in the hands of immediate families who have lost a loved one in service to the United States. We have tens of thousands to reach and are focusing not only on the current War on Terror but as far back as WWII, Korea and Vietnam and everyone in between. We are making tremendous progress with very little resources, please help us continue our mission. We currently have over a thousand requests from families we are not able to reach. We will eventually honor every single individual who has ever given their life while serving our country, throughout history.
There are many expenses involved in advancing our mission and goals. Any contribution is essential. If every supporter donated just $5.00 a month we could move closer to fulfilling the goals of our mission to establish, educate and present flags to Gold Star families. See http://www.honorandremember.org/donation/
Honor and Remember, Inc. is an IRS approved 501(c)(3) charitable organization. You may also text the word FLAG to 91999 to donate from your phone. Thank you.

About Michael G. Reagan Portrait Foundation
The mission is to honor the American Fallen Heroes for their ultimate sacrifice during the war against terrorism. The foundation will provide the resources to produce and distribute to each family a hand-drawn portrait of their Fallen Hero, created by artist Michael G. Reagan, free of charge. Each portrait is intended to show their Love and Respect for these Heroes and their families. Michael has to date created and sent to families more than 4,200 portraits of Fallen Heroes.  The Michael G. Reagan Portrait Foundation is a 501(c)(3) charitable organization.  For more information, please visit www.fallenheroesproject.org
Hero Stars at https://www.facebook.com/herostars.capecod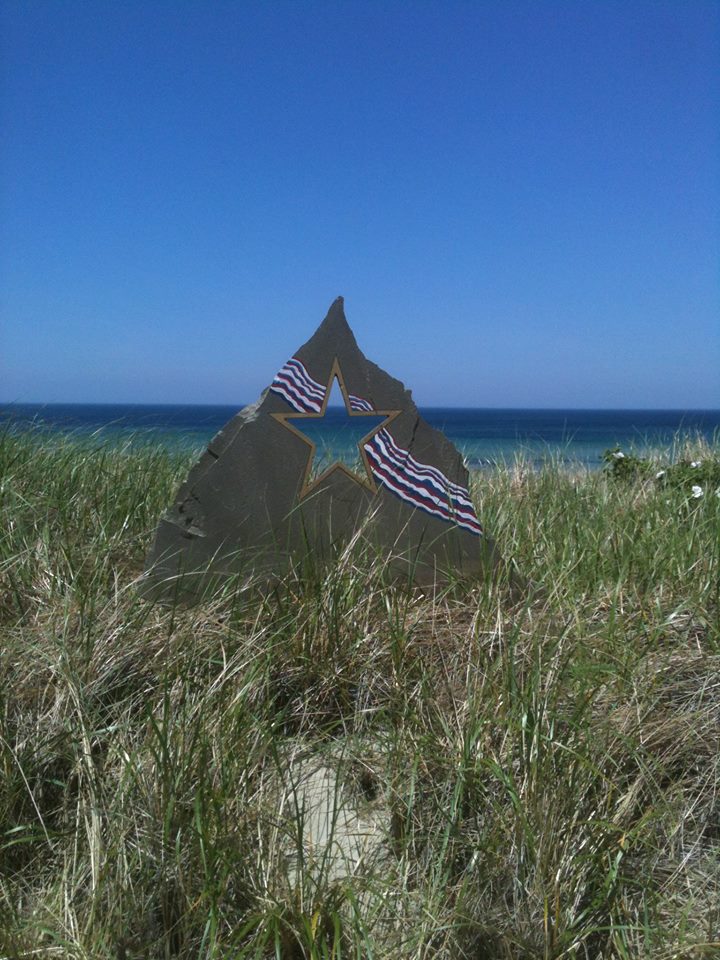 Hero Stars was created by William Witkowski, and his wife Cindy, November 3, 2010. He still works out of Hyannis, MA to create beautiful stones to honor Gold Star Families, First Responders, Canine Service Dogs, and any family whose loved one dies a hero in service to our country. Bill recently added Teachers to the list after the Sandy Hook School tragedy.
Mission
Our mission at Hero Stars is to NEVER forget those who gave the most ultimate sacrifice. Hero Stars honors families by presenting a handmade Hero Star stone each different in their own unique way. Our stones are not a marked memorial but a star with a story to tell to all generations. It is our honor to give this gift to the families that have lost their loved ones that will stay with them forever and there will always be a different story behind each and every one of our hero stars. It gives us the pleasure and gratification to present and install our stones to each family.
Remembering them always for their courage, bravery and to acknowledge there sacrifice given for our country. These men and woman truly are heroes that should always be remembered. We will never forget our Fallen Soldiers, our first Responders and any hero that at all cost sacrificed their lives for us.
A Hero Star honors heroes as a simple remembrance so they will live in OUR hearts forever.
Bill creates these beautiful stones on his own time at no cost to recipients and ships them around the country using personal funds. These stones are quite heavy, so the cost of shipping the stone is expensive. You can sponsor a recipient by paying the shipping costs of a stone or simply donate money by contacting Bill via private message using his Facebook address: https://www.facebook.com/herostars.capecod
An Article about Hero Stars from Cape Cod Times
Stone worker creates keepsakes for Gold Star families by Sean Gonsalves
Posted May. 25, 2014 at 2:00 AM
Updated May 25, 2014 at 8:01 AM
http://www.capecodtimes.com/article/20140525/NEWS/405250337
Cynthia Jones and Cynthia DesLauriers share more than a first name. They share a profound loss and an enduring bond etched in stone.
Jones' son Eric, a captain in the U.S. Marine Corps, was killed in October 2009 in Afghanistan at the age of 29. DesLauriers' 25-year-old son, U.S. Army Sgt. Mark Vecchione, died in July 2006 in Iraq — the first service member on Cape Cod to be killed in action fighting the war on terror.
As the nation recognizes Memorial Day and pays tribute to those who paid the ultimate price serving in the military, Jones and DesLauriers have gaping holes in their hearts. But now, thanks to Bill Witkowski, they also have a lasting reminder of their sons' sacrifice.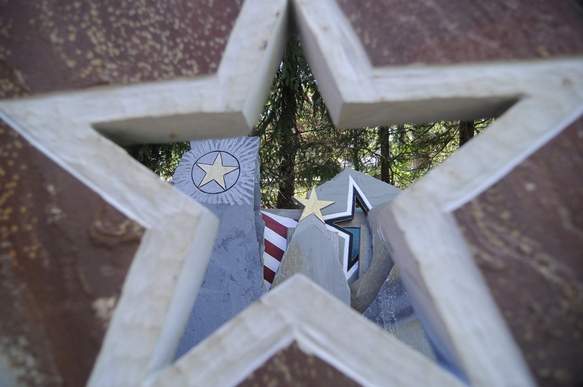 Witkowski calls his new venture Hero Stars — slabs of stone with a gold star carved into the center to symbolize the life and enduring legacy of fallen troops. "I started cutting these little butterflies, whale tales and starfish — just trying to make some extra money," Witkowski explained as he walked me through his yard where he keeps his inventory. "Somebody asked me if I could do a star for a Gold Star family. So I did one and was told, 'Well, there are 12 more Gold Star families on the Cape.' So I texted my son who was helping me at the time and said, 'Well, we gotta make 12 more stars,'" Witkowski said.
But these carved stones weren't for extra money. A longtime owner of his own construction and landscape design business, Witkowski — with the help of his son and wife, Cynthia — started reaching out to Gold Star families on the Cape and presented them with memorial stones as a way to say thank you.
With Stonewood Products in Harwich donating the material — "irregular bluestone flagging" — Witkowski turned his shed into a workshop, where he cuts the stone with a specialized saw, hollowing out a star-shaped center, or engraving one onto the stone itself. All told, the cutting, scoring and painting, takes him a day to complete at a cost of about $400 to $500 per stone.
"This is my full-time job now," he said, noting that he and his wife are in the process of expanding their efforts by making Hero Stars a nonprofit organization honoring the families of fallen troops, as well as police officers and firefighters who have died in the line of duty.
On the strength of the "hero stars" he has made and installed in the yards of Cape Cod Gold Star families, Witkowski said, in the past few years requests have poured in from across the country — and not just for service members killed in Iraq or Afghanistan. He has made some for the families of veterans who lost their lives in World War II, Korea, Vietnam, even the Civil War.
Also, Witkowski made it a point to say, he also has begun making them for members of the service who returned home alive but later took their lives, haunted by post-traumatic stress. "From 2001 to 2013, 4,489 soldiers lost their lives in Iraq, another 2,307 in Afghanistan. But, in that same time period, 88,330 have committed suicide," he said, handing me a brochure from the Battle Buddy Foundation that read: "Just because they're home, doesn't mean we stop supporting them."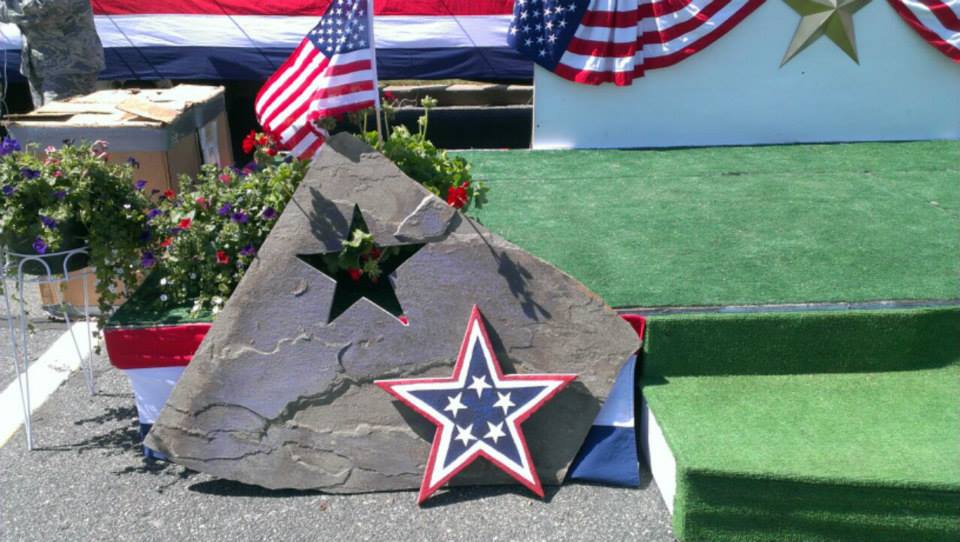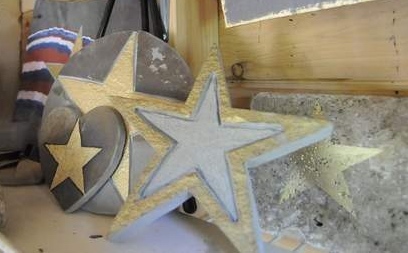 As he showed me the variety of his handiwork — big ones, small ones — he stopped at one finished piece with a star carved at the very top. It was an idea he got while watching his favorite pastime, New England Patriots football. "This one, I was watching a Patriots game, and they show a highlight of Tom Brady holding up the Lombardi trophy. I thought, 'I can put a star on top with another style,'" he said, tracing the lines he carved into the stone with a paint-stained finger, which creates the impression of light shooting out from the star.
Jones, who lives in Mashpee, recalled when Witkowski first contacted her. "He said he had this star in a piece of bluestone slate that he wanted to give us. I didn't know what to expect," she said. "He came one Saturday, and I was just in awe of this beautiful piece." Witkowski placed it in their family garden. "That way, when I'm in the kitchen I can look out and see it," Jones said. He also installed a small light to illuminate the monument at night. "A piece of the stone is missing and a piece of my heart is missing. So when the light shines through and up to heaven, it's symbolic for me. It's the light of God. Stone to me is earthly. And Eric is no longer in this realm. But I know he is around me. He is the light," Jones said.
DesLauriers, who lives in Eastham, was one of the first Gold Star mothers to get Witkowski's gift. "I remember it being cool and kind of misty outside when he came. I'm not a good landscaper. But we found a perfect spot in the yard where people can go by and see it. My daughter planted a yellow rhododendron on each side," DesLauriers said. "I love his work, and I love the idea. At first, he didn't know what to call them so I said, 'Call them what they are — Hero Stars,'" she said. "Remembering means a lot. We don't want our sons and daughters to be forgotten."
And while it may seem counterintuitive, that Witkowski doesn't carve names into the stone helps keep the memories alive. Both DesLauriers and Jones said that when people see the stone in their yard, some will ask about it. And that gives them a chance to talk about their sons' service. "Talking about him (Sgt. Mark Vecchione) means he's still here," Jones said. "He's always present in our hearts."
Although he doesn't do it for the money and has to rely on donations, Witkowski said he's fine with that because he feels it's a small debt to pay for the freedom these soldiers died defending. "Other people do portraits or quilts. But this will last forever," Witkowski said. Jones and DesLauriers certainly will be forever appreciative. "To have Bill honor your loved one, it touches the heart in ways you could never express," Jones said. "He won't forget what our military has done for us," DesLauriers said. "It's like someone giving you a hug."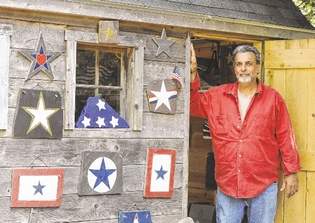 Bill Witkowski stands next to his shed which is decorated with some of the carvings he has created.….. for families of fallen soldiers. For more information about Hero Stars for fallen troops, check the Facebook page at https://www.facebook.com/herostars.capecod
Our Experience with Bill and Cindy - Army SGT Matthew Scott Patton's stone
We recently attended a fundraiser for Bill and received a stone for our son Matthew, who committed suicide May 13, 2013. He served for five years with one deployment to Afghanistan October 2009-2010. He was scheduled for terminal leave and would have been home in four months when he took his life. This stone honors him, his service, and our sacrifice. We appreciate Bill and his wife Cindy for the work they do, especially their belief that the manner of death does not take away from a Service member's service to our country. Here is Matthew's stone along with the three stones Bill created for Matt's surviving siblings. He and his wife Cindy presented this stone after having another Gold Star Mother tell his story with Matthew's picture displayed on a widescreen so everyone could see his beautiful face. They used my favorite picture of Matthew, which brought tears to my eyes. Thank you Bill and Cindy for honoring and remembering our son, his siblings, and our family.